At the risk of trying to sound like a legitimate writer, my Editor tipped me off to Polarized Eyes. Dan at Critical Popcorn sent me a message saying "I know you like a lot of new stuff, These kids have potential" and there was a link. He wasn't wrong either. The youthfulness is audible in the singers vocal but the way with a melody and the raw punk edge? There's no knocking it. That's proper. When I looked into the band a little, the promo photos alone confirmed that these upstarts are still school age. Citing Foo Fighters and Nirvana as influences in the press they may literally still have homework to do on some topics but they've got their punk rock credentials down pat as far as I can tell.
Blackout was released in the last week of 2020. It may well be a precursor to an album or it may be another in what has become a string of EP's and singles over the last year and a bit. Information on them is scant without going to see them live (easier said than done for much of the bands lifespan). There's a house sound the likes of early post grunge young 'un's Radish and noughteens noiseniks INHEAVEN used to make. The guitar is flanged to fuck and urgent in its delivery. The bass line plinks about like Kim Deals kid sister and the "We run we run we run" melody hooked my ear early. Then the effing and jeffing starts.
What's more punk than "fuck the system" being screamed by someone who has yet to make a taxable contribution? Ruddy love it. What sounds like it's going to be a relatively messy gutter punk scrabble bag of breaks and riffs finds a couple of extra gears while the band are flailing their arms at their kit. It goes up a notch. Then another. That seems to be their special move. They can thrash it out and up the ante without losing their song along the way.
Before Polarized Eyed released…. wait for it… Blackout (that was a very old punk pun, I hope a few of you old timers enjoyed it) they put out a rather nifty EP called Prescription Lens in 2019 and in 2020 pumped out three other singles. So they're no slouches in that department.
They're trying different things out for size but the touchstones of young punk and the alternative world are all getting a fresh new turning over. They've got a bedroom made video for their track Inferno that doesn't give a toss what you think of it. They get to mess about with their mates and that's the point. The Foo Fighters influence is obvious on that one and that is no bad thing. Their other video for 2019's Storm from the EP may well take on that unbelievable baby faced footage feel that early Halestorm releases have. Remember Lzzy Hale and her band didn't always look like leather clad road dog rock gods. There was a phase at the beginning where they were just keen high schoolers with their first instruments and an ever expanding set of effects pedals and pre-amps.
Blackout is Polarized Eyes most accomplished tune yet. Not least for it's list of things that should get fucked.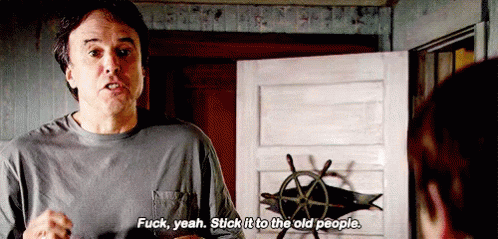 Perhaps middle aged wannabe rock critics should be on that list. I say "Fuck Yeah, stick it to the old people"